John McKnight is a well known name in the area and the Renton School District even named a Middle School after him. His father, also John McKnight, was an important man in the Newcastle coal mining era and is buried in our cemetery.
John had served during the Civil War and came west after the conflict looking for opportunity . He was very interested in the birth of our nation and wrote and delivered a speech commemorating Independence Day in 1875.
John came to Newcastle in the mid 1870's to find work. He left his wife, Ellen, and son, Willie, in Oregon while he found a job and a place for them all to live. He started off working in the coal bunkers at a rate of $2 for an 8 hour day. He could have made $3 if he had his own tools, but he had left them behind. His work shift began at 7AM, stopped for lunch at noon, started again at 1 PM, stopped at 6PM for dinner, began again at 6:30, and went until 9PM. This extended period counted as a little more than a day and a half. As a result, John earned $3.125 for the shift. The miners were paid once a month for the preceding month's work. Paying all the miners was done in cash and could take 5 or 6 hours to complete.
It was hard work, but enabled him to bring his wife and son to Newcastle. When he first arrived there was not any available housing. He was able to get room and board for $8 a week, but eventually he secured housing for his family and they joined him.
John was industrious and ambitious and soon left the mines to work in the Company store. The pay was better, conditions better, and less hazardous. During 1884 and 1885 he sold life and accident insurance. He was the Justice of the Peace from 10/1889 until 2/1891.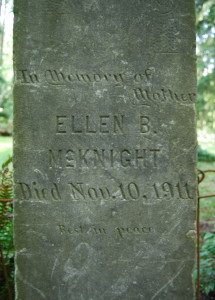 John passed away in 1900 at the age of 45. He was preceded in death by his son William who died in 1893 at the age of 18. His wife Ellen survived him until 1911. All three are buried in the Newcastle cemetery. After Ellen's death, their other children, included son John (namesake for the Middle School) moved to Renton. John became a very successful businessman.
Every headstone has a story. Victor Nyman died at 14 years of age. He was picking blackberries one afternoon and decided to take a nap. While asleep he was overcome by mine gases from a ventilation shaft and died. His headstone was stolen by vandals (a common occurrence during the mid 1900's). It was found many years later on a garbage dump. The person who found it was kind enough to investigate and determined the source was the Newcastle Cemetery. The stone was given to Milt Swanson of the Historical Society who returned the stone to the gravesite.
If you are interested in learning more about the cemetery, activities of the Newcastle Historical Society, or would like to share your local history with us please contact me at crispo@comcast.net or come to one of our events.
Rich Crispo