Another Newcastle Historic Cemetery Cleanup will be held on May 27, 2023 from  10:00 AM – 2:00 PM.  Objective is to pull English Ivy and deadfall debris.  No power tools necessary.  Bring a hand pruner, gloves, wheelbarrow, rake, etc.  Wear work clothes and work boots.  Individuals of all ages invited but anyone under 16 must be accompanied by parent or guardian.  City of Newcastle providing a dump trailer. 
Address is 7811 129th Ave SE, Newcastle, WA 98056
The Coals of Newcastle – A Hundred Years of Hidden History
by Newcastle Historical Society (Author), Eva Lundahl (Editor), Margaret Laliberte (Editor), Diane Lewis (Editor), Kathleen L. McDonald (Foreword)
From 1864 to 1963, Newcastle, Washington was the center of a busy coal mining industry producing nearly 11 million tons of coal from a crisscross of tunnels under present day Cougar Mountain, Coal Creek Natural Area and The Golf Club at Newcastle. There were two main town sites as well as large mining structures, buildings and homes. A railroad ran from the mines to Renton and Seattle, and there were roads extending to Lake Sammamish, May Valley and Lake Washington. Very little evidence of the once bustling coal mining town of more than 1000 people remains. This book tells the story of the mines, coal companies, transportation and the people of an almost forgotten era.
Get your copy today from Amazon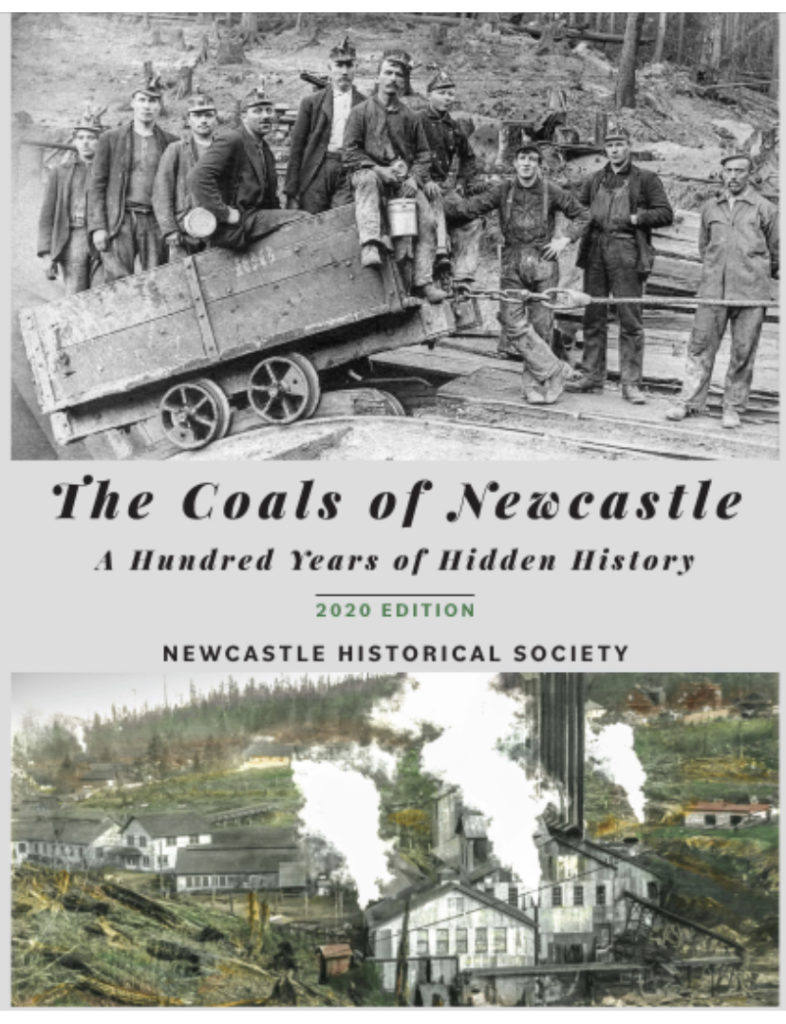 Cougar Mountain Regional Wildland Park and Coal Creek Park together encompass the heart of an old 19th century coal district. Many people driving past on a daily commute may not know they are near the site of the old Newcastle coal mines. Coal miners and prospectors worked these mines from 1863 to 1963, removing nearly 1 million tons of coal, as well as 4 million tons of waste rock.
The towns of Newcastle and Coal Creek, separated by one and a half miles of thick forest, grew up around the mines, and in the 1880s they comprised the second largest community in King County. As the county's earliest sizable industry, Newcastle coal mining caused Seattle to grow from a small village in the 1860s to a major port city in the 1880s.
In 1863 coal attracted investors from California and the East Coast, who put the miners to work digging surface deposits and excavating shallow tunnels. Originally workers bagged the coal and took it to Lake Washington to barges. By 1872 coal was dumped into cars, pulled by horses to Lake Washington, barged across the lake, pulled to Lake Union, barged again, then pulled to coal bunkers on Elliott Bay. In 1870 the Seattle and Walla Walla Railroad laid tracks to Newcastle. The train took coal to Seattle quickly, which in turn made the railroad profitable.
With explosives and handpicks Newcastle miners created huge, underground caverns ventilated by air shafts. Tram cars pulled by mules hauled coal out, where workers sorted out the waste rock. Miners showered at a company wash house–which was so much easier than bathing at home, that their wives demanded a "ladies night" at the showers.
Coal dust in the dry mines–potentially explosive–was the biggest danger. The mines were continuously sprayed with water, but an 1894 explosion killed four miners. Two months later, fire threatened the area from underground. Coal Creek was diverted in the mine to put out the fire, leaving smoke hanging over the community for months.
Coal production stayed high through World War I. However, immediately following the war, strikes were common. A fire destroyed part of the mining equipment, and the mining operations closed. Independent miners continued to mine until the 1960s, often with a danger of cave-ins from working too near the surface. Today the earth occasionally slides into a forgotten tunnel, and locals sometimes think the smoke clinging to the valley on clear days comes from fires still smoldering in the abandoned mines. Remnants of mine shafts, concrete foundations and tailings dotting the parks are disappearing into the forest of Cougar Mountain.
Article by Amy Brockhaus
Courtesy of Greenways